How often have you heard the phrase, "work ON your business, not IN your business"? Often when someone starts up a business and that's Kim and me included, it's because they have the core skill that the business is out to provide …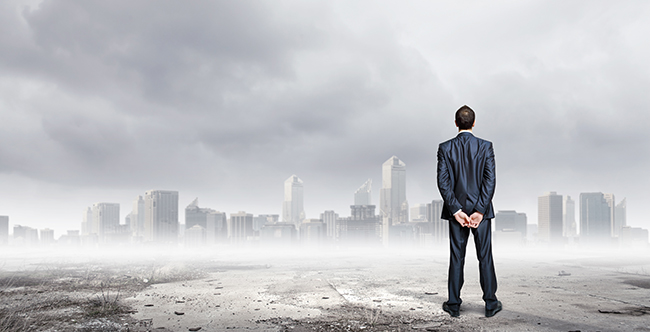 For example, Kim's career had always been as a graphic designer, so setting up a design agency seemed to make sense. Other examples could include a chef starting up a restaurant, a mechanic opening up a garage and an accountant starting up an accountancy practice.
"On the surface they all appear to be logical steps if you're ambitious!"
But! Is your intention to continue to work IN the job, i.e. continue to check the numbers, stand at the range in the kitchen churning out food, or getting your hands oily and hitting your head as you get up from under another car?
In fact, carrying on very much like you might have been operating in your previous job, except you're now the boss, so you get to make the decisions. Oh and you get to work a lot longer hours for a lot less money, deal with staff who don't turn up, handle unreasonable demands by customers and have sleepless nights worrying about your cashflow, or more likely, lack of it!
"Is that what you really signed up for when you decided to put your name above the door?"
Or did you have a vision of you running the show, employing and managing other people to deliver your dream and you focusing on building and developing the business?
Neither approach is wrong; it's your choice. Kim still loves designing and creating branding, websites, exhibition stands and print, but this is balanced by my desire to build an effective business, which, one day could operate without either of us.
I love the business development bit, creating a vision, sharing it with others and working with those who understand it and want to grow with it.
What I do know is if you're constantly working IN your business, you're going to find it very hard, but of course not impossible, to grow and build a business of value in its own right.
This was really bought home to me recently when one of my mentors, Rob Moore suggested I read a book called Built to Sell by John Warrillow.
Whilst the book tells the story of how the owner of a design agency changed his model from working IN the business to ON his business and, as a result, successfully sold the business when he chose to, the principals apply to most businesses run by the self-employed and small business owners.
"But beavering away in your business can lead to other issues as well!"
My parents had a dream to own a country house hotel, which they did from 1984 through to 2001, in Hawkshead in the heart of the Lake District. They created a beautiful environment, with genuine hospitality and superb food and as a result had a great flow of repeat guests and referrals. They also worked 16 to 18 hours a day for 10 months of the year and for the other 2 months of the year, were decorating and upgrading.
Situations like these can mean that when problems arise, the risk is that you don't have time to solve the route cause, but you find a way to manage the problem with an unsatisfactory work around and dealing with handling the consequences.
So in business there are 3 types of people:
Those who let things happen
Those who make things happen
And those who wonder what happened
By working IN your business, you might feel you're fully in control, nothing will get past you and you can make sure your expensive staff are grafting all the time. In reality, you're probably letting the business control you. What about your dream, the vision you started your business with? Do you ever feel like a mouse on wheel, running for all you're worth, but not getting very far?
If you know anyone who you think has got to a stage in their business where they feel it's time to take a fresh look and have a bit of a rethink – which more often than not will happen when something goes wrong – I'd love to help.
"Kim and I love spending time with people, helping them to clarify their vision for their business!"
With clarity, they can choose to pursue their refreshed vision by themselves, or it might be that they'd want us to help deliver their vision. In the first instance, get them to drop me an email to arrange a chat.
I'm off to make some things happen … watch out Kim!