It might seem a funny place to start a blog post by saying I don't watch that much television, but I happened to catch Alex Polizzi 'The Fixer' on BBC2 on Monday evening. Alex is the modern day TroubleShooter made famous, firstly by Sir John Harvey-Jones, then Chairman of ICI and more recently presented by Gerry Robinson and Lord Digby Jones …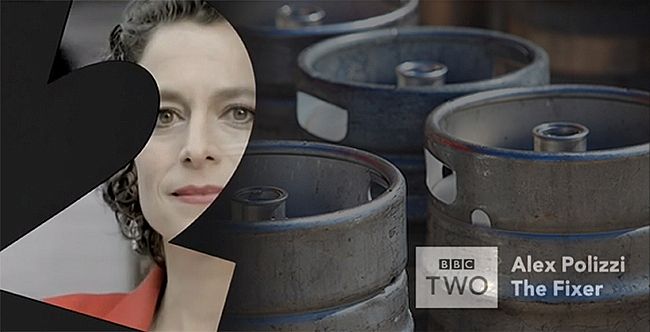 Now, I must admit to becoming a touch cynical about how programmes are edited to ensure they are dramatic enough to hold our attention. I learned about this from knowing the owner, Neil, of a great restaurant in Ambleside in the Lake District, who was asked if he'd like Gordon Ramsey to come and make a programme about his business.
It was aired under the previously undisclosed title of 'Restaurants from Hell'. Yes, the editing did, wrongly, suggest this was a restaurant we should never have frequented before Ramsey's interjection! And the best bit of the programme, for me, was when Neil suggested to Ramsey that maybe they should go out to the carpark to "sort things out, once and for all".
"So whilst taking the editing with a pinch of salt, I found this a great programme and compelling story!"
I won't tell you too much here, so not to spoil your viewing, but The Hunter's Brewery had hit a ceiling and was running out of cash fast. As is often the case in these situations, it takes someone from the outside to help identify the root causes and to find a way forward.
My own area of expertise might be transforming business performance using great design and powerful branding, but I am actually fascinated by business as a whole: people, production, finance, sales and marketing and great design can impact on all these areas.
But Alex did 'branding' a great favour. Paul Walker, the managing director, was determined to increase sales, convinced exporting was the key, but Alex recognised Paul was not clear on his product positioning, his beers were untested outside of his local Devon market and that Hunter's Brewery's current branding would stifle results.
The problems identified with the old branding by Alex, with the help of a design agency, were:
No differentiation for Hunter's beer from the hundreds of competitors available in the market place.
The mishmash of incoherent designs across the range of beers undermined Hunter's Brewery's core values of consistency, rural, informal, real, down-to-earth.
Did not reflect Hunter's Brewery story and positioning.
The agency, recognising these problems, also added in their expert opinion to get the Branding right the importance of:
Design images that were strong but not over exaggerated.
A colour scheme appealing to the Brewery's target audience (and refined for different markets, eg. exporting to France).
Good typography to clearly communicate messages.
Keeping the whole look clean and tidy and coherent, i.e. 'less is more'.
The goal was to have a strong brand, that made Hunter's beers distinctive and stand-out in the market-place, appealing to the target audience, reflect the Brewery's core values and story and so command a premium positioning to avoid competing on price in what can be a very competitive arena.
"Now, it has to be acknowledged that not everyone's going to like the new look and in some ways, that's important."
Trying to please all of the people all of the time is not a successful strategy for business. Kim and I thought the new look was the right positioning for Hunter's in its marketplace.
For any business, if your branding is wrong, you will not meet your full potential and you will hold your business back. Get your branding right and you can unlock increased sales, margins and profits. Getting your branding right is a key to your success and building your business.
Keep your brand current and assess its performance regularly:
Is your positioning (premium, high value) still right for your market?
Is it cohesive across your business and products?
Does it stand out and differentiate you?
Does it communicate the essence of your offer?
Does it inspire your audience to connect with you and buy from you?
To find out more about how powerful branding can transform your business from the ordinary to the extraordinary, subscribe to my blog posts by clicking to the right of this page, call me on 07583 047103 or drop me an email (hello@brandpromise.uk) to arrange a strategic consultation (a chat)!
Catch up next week; I'm off to the pub for a pint!
Until next time …
P.S Don't forget to connect with me on LinkedIn, Twitter or check out our Bennett Design Facebook Page!