Have you ever Googled yourself? Most of us have at some point and the result will be either information you've chosen to put out into the ether, information others have put out there about you, or even nothing at all. Which is better for you and your business?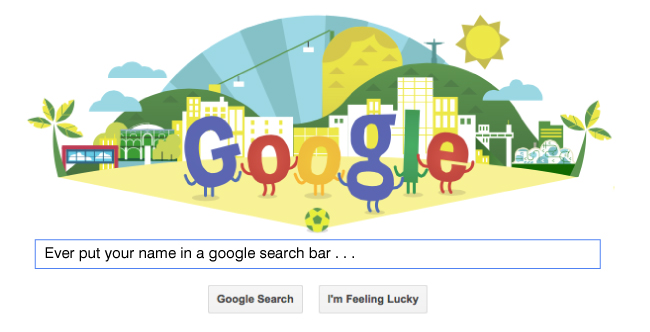 Well, I imagine that depends on what others are saying about you; good third party endorsements are invaluable, whilst negative information can potentially destroy your business.
We should all keep two points in mind as far as the Internet goes: one, once the information is out there you can't take it back and two, if you seek to take advantage of the Internet you can't control how others respond to you.
"This is much like celebrities who court public adulation, but then, when the attention doesn't suit them they try to shut off. You can't have it both ways!"
There is one thing we can all do to help ourselves on the World Wide Web. We can tell our own stories. Stories are great ways of connecting, because we crave emotional and powerful connections.
The best stories are irresistible, compelling and provocative! The most memorable stories often include the unexpected, speaking directly from – and to – the heart and daring to tell both highs and lows. Being open and honest are what makes your story seem genuine and authentic. People like honesty; in reality, most will equate to mistakes you've made and many will forgive you your shortcomings.
So what can telling your story do for your business?
Your authentic story makes you memorable
It differentiates you
It can make you desirable
It brings your business to life
Your target market will become far more responsive to you
It positions you as visionary in your field
It pre-qualifies those who connect with you
Consistency in your story is vital if you are to build genuine and trusting relationships. Unsubstantiated changes will undermine your authenticity so whilst, of course, you don't have to release every detail about yourself, we all know what's happened to famous people in the past when the skeletons in their cupboard have got out.
"Take care of your story; you are your own guardian!"
Although you should of course take the role of Guardian seriously, that doesn't mean you have to work in a straitjacket. Have fun with your story; make the most of your sense of humour. Those who don't get your humour are unlikely to align with you and so not work with you in any case. Remember we can't please all of the people all of the time.
Your audience will subconsciously pick up on your energy in your story. Remember, enthusiasm is one of the key attributes of a successful salesperson and if you've got your own business, you are a salesperson whether you like it or not! So even if you want to talk about a mistake you've made, by simply turning it into a lesson you've learnt, it changes the whole dynamic to upbeat and positive.
Part of the reason I blog is to tell my story. If you've got a story to tell, or you want help putting your story together, I'd love to hear from you. Call me on 07583 047103 or click here to ping over an email. (hello@brandpromise.uk)
Until next time …