Kim and I have just spent a day in the sun at The Cheshire County Show. It takes me back to my farming roots and, of course, I always enjoy a day out of the office. But, unless we took a day's holiday, could we justify this in business terms?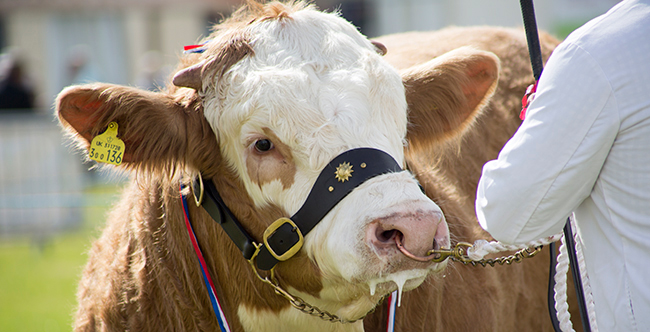 And my answer is a resounding "Yes!" Firstly, in business, having a feel for your environment and just gathering knowledge and information is paramount. We all tend to resort to the Internet now for our research, but sometimes actually experiencing things for real and seeing the whites of peoples' eyes just can't be beaten.
"Now, I understand that a show, with its roots in agriculture, might not be the right place for everyone; industry events specific to you may be more appropriate!"
But for us, county shows connect us with several sectors we love to work with: rural businesses (sometimes but not always, traditional farming businesses diversifying); family run businesses (these for us range in size from one man bands up to £85m turnover 4th generation family businesses); and speciality food businesses which seem to gravitate towards these types of events (my favourite on this occasion being The Great North Pie Company and I'll provide my critic of these pies after the weekend following my birthday dinner on Sunday).
Events like these are also great for our networking. I imagine many of us think of business networks as a fairly recent phenomenon, but certainly rural and farming businesses have been using these types of shows for years and even centuries in some cases.
Farmers, in particular, would make the most of the opportunity to talk with other farmers, often about best practice in livestock husbandry and invariably there would be some wheeling and dealing going on, particularly for breeding stock, with winners and their offspring, in the many stock classes being particularly in demand.
Machinery dealers always have shiny new bits of kit to show and set those mechanically minded thinking about how they could get certain jobs done better, quicker and at less cost.
We've also come away with names of businesses we feel we can give value to; my job will be to follow-up these next week. Seeing how businesses present themselves and what message they're communicating and does it reflect what they are actually offering is invaluable for us.
As always, there are plenty of great businesses showing off their wares and selling them too, but it always amazes me how many businesses are trying to get their audience to believe they are at the top of their game, providing truly high quality products and services and yet the way they present themselves can be best described as downright shoddy.
They may, of course, argue that their business is doing ok and they've got customers, but what about the opportunities they're so likely to be missing out on and, with the right message delivered in the right way, how this can impact on communicating higher value and hence achieve premium pricing?
The best sales pitch of the day has to go to the chap who polished my shoes. Having caught my attention by calling to me asking if I would like my shoes cleaning, he very quickly made them look great and then squirted water over them which clearly showed how it made them water proof too.
"By the time Kim had her boots done we were well and truly sold. The art of salesmanship (sorry that's not intended to be sexist in anyway) is still alive!"
So I'll let you know how I rate my birthday pies next week. Until then please do share and tweet my blog post.
Until next time …
P.S Give me a ring on 07583 047103 if you want to transform your business and increase your performance or check out our images of the Cheshire Show